As is clear from our long term collaboration with Jayman BUILT to standardize solar for homebuilders, there is substantial grassroots demand for solar modules and renewable energy within the average Albertan family. As those standardized, smaller systems proliferate and the technology becomes more accessible and visible, solar home builders will become more and more in demand as time goes on. If you factor in the inevitable adoption of net zero building techniques into the Canadian construction market, the time has never been better for local home builders to invest in renewable technology.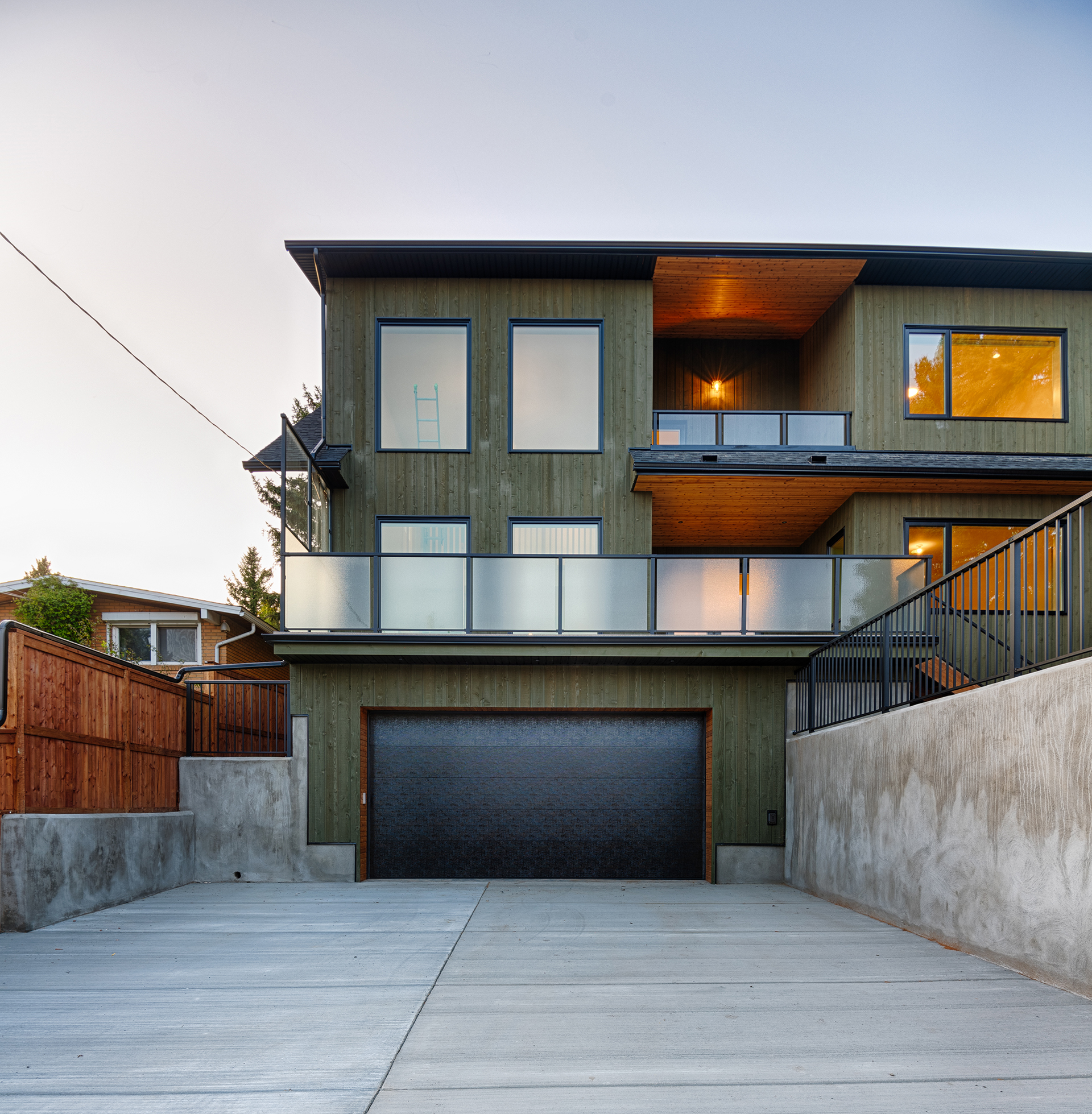 One local custom home builder, Homes By Sorensen, has separated itself from the pack by embracing renewable energy as a solar home builder, and in their experience, it's far from a tough sell for people. The Homes By Sorensen team includes Axel, his business partner and wife Heather who leads design, development and sales, and site supervisor Brent Gilbert. From their position dealing directly with all sorts of homeowners, it's pretty obvious to all of them that the solar writing is on the wall. We spoke over the phone with Axel to get a feel for how that looks.
"In the custom [home] market, I don't have any trouble showing people the benefits and added value of solar or energy efficient building practices," Axel shares. "That seems to be the type of market where people are passionate about their house, they want a home that stands the test of time… A high performance product that will not be obsolete in the years that follow. Solar [modules] are one awesome way to get us there … There's regular retail rates, but with ACE Energy when you are over producing you can get paid almost 26 cents per kilowatt hour for that energy. When you start factoring that in, the economics of solar look pretty good and it makes it a lot easier to see the value of solar energy."
Gaining Ground on Net Zero
As with many things in the green movement and renewable energy, Alberta is a bit slower on the uptake than some places, but Axel's experience speaking with so many prospective home buyers means he sees the organic change in the marketplace.
"I think people are still getting used to the fact that you can put solar on your house and make your own power," he shares. It's fair enough, and luckily with more home builders incorporating solar into their homes, the sight of solar modules shining in the sun is becoming less exotic by the day.
Solar is not just powering peoples' lives these days, it's also opening the door for forward thinking construction entrepreneurs like Axel and the team to push forward on more ambitious climate-friendly goals like net zero and passive homes. With both British Columbia and the Government of Canada in various stages of implementing Net Zero Ready building codes, solar modules for new home construction will soon become borderline necessary in order for annual energy usage to drop to zero. Solar home builders like Homes By Sorensen are already setting themselves up for that.

"The hope is that we're building nothing but Net Zero homes eventually," Axel tells us. "Right now we do about 10 homes a year, and half of them are custom and the other half are spec. We love to build custom net zero, [and] it's gaining traction quickly. We are growing fast and building our name as a builder who excels at building Net Zero and has an established cost and formula to get there, and that would be all we were doing." 
It's an admirable goal, both for being smart and to push the right techniques and technologies forward for this critical time. 
Net Zero Techniques
So how does that all actually work in practice? 
"I'm happy to share my formula," Axel said when we quizzed him on his methods. "As much as I'd like to be the only person that could do this so everyone would have to come to me, I also want everyone to know how we get there so we can all be building like this. For me, it's a good business decision to be a Net Zero builder, because it gives us a niche in the market, but at the same time we all have to get a start on it because if we don't get moving on that we're never going to do it."
Axel's typical approach is, in essence, twofold: first, reducing carbon input as much as possible in terms of heating and electricity; and second, offsetting any remaining energy needed with solar energy. The more efficient a home's energy footprint is to start with, the easier it is to reach zero net energy via solar. Reducing carbon input can take two forms when designing a house.
"Air tightness is the [most affordable] way to save energy," says Axel. "It doesn't take any expensive products, it just takes people putting intention into building and making sure to be very mindful of the air barrier. That's the first technique."

"The second technique would be making sure you have enough cavity in your wall to install ample amounts of insulation," Axel continues, "but at the same time, you can go pretty minimal and you can go pretty extreme. We're doing houses with 16 inch wall systems which is pretty extreme, and I've also done net zero homes with just a 2×6 wall with just a little bit of exterior insulation… but the amount of insulation you put in your wall will directly correlate with how much comfort you are experiencing within your house once you're done." 
Solar Home Builders: The Key to Net Zero
As building techniques and technologies have improved over the years and as industrious entrepreneurs like Axel and others have invested time into methods, the barrier to entry for net zero has become much less intimidating. Solar home builders are essential to the coming net zero movement.

"The great thing about net zero versus a passive home is there's a wide margin of different levels of comfort you can attain," Axel says. "You can almost stick to a pretty similar building practice to a typical home right now, you just need to have enough solar on the roof to get there. Airtightness, insulation, and thermal bridging, just trying to be mindful of thermal bridge points."

It all sounds simple when he puts it like this. Just keep your home airtight, use the most efficient mechanical core of your home you can, and offset the final carbon tally with solar.
"You tally all this up, give it to an energy modeller and they'll tell you how much energy your house needs. We send that number off to [SkyFire Energy], and you come up with a solar array that will meet that energy demand."
The simplicity of this approach bodes well for taking a big chunk out of carbon input related to peoples' day to day living. With more ambitious carbon reduction targets becoming more typical in 2021, it's a near inevitable future as more and more solar home builders enter the market. 
How To Future Proof
So what comes after Net Zero? Another method Axel's been keeping in his back pocket for especially ambitious custom home clients: passive houses.
"A passive home has a different set of standards than a net zero home," Axel continues. "A Net Zero home is basically 40% more efficient than a standard home to code. Passive homes are far more technical, there's a lot more checkpoints to meet. They have a benchmark for the heating mode within your house, and a benchmark for the overall amount of energy used within your house. They're around 90% more efficient than a code built home, so it's a lot more challenging." 
Despite the challenge, passive homes are now an established technique, which means that as Net Zero becomes the standard and is more accepted, those on the frontiers of efficiency and living clean will continue to strive and look for passive home building techniques. 
"One thing that gets missed lately is how much better solar [modules] are and how quickly they're getting better," Axel shares. "As a culture we use a lot of energy in our day to day, each home needs quite a bit of energy, but we can produce that with how much sunlight we get here. I don't think it's… a matter of how much we use, I can't see a future where people use less energy. With how much electronics are out there, and the fact that people are eventually going to be switching over the EVs here, we're going to be using tons of power, it's just a matter of getting our infrastructure set up for all that."