Let's create some solar magic!*

The Okanagan team works hard to provide value and the best service to our customers. We are proudly recognized as one of the best solar panel Installation company's in the Okanagan and surrounding area. Our experts serve the BC Interior including Kelowna, Vernon, Lake Country, Summerland, Peachland, Penticton, Oliver, Osoyoos, and surrounding area.
Our turnkey solutions are ideal. Whether it's residential, commercial and utility-scale solar systems, battery storage, electric vehicle charging solutions, operations and maintenance support and engineering consulting, our solutions ensure the best outcome for your solar project. 
Book your free, personalized consultation by completing this form. We will respond within 2 business days. We anticipate you will have questions like: Will solar work on my home, business or land? How much will the solar installation cost me? What kind of maintenance do solar panels require? Does installing a solar PV system make sense for me and my family right now? The SkyFire team will be ready to discuss these and any other questions you have. Plus, we will provide a quote with an estimated price for your project. 
Visit us at #1-1110 Stevens Road, West Kelowna. The hours are Monday to Friday, 8 am – 5 pm.
Walk-ins welcome and bring your renewable energy questions with you or call us at 778-476-8149. We are here to help.
*Magic – the feeling you get when your solar system is turned on for the very first time and you know you are part of the solution for climate change.
In the spirit of reconciliation, we acknowledge that we live, work and play on the traditional territories of the Okanagan Nation Alliance which includes the Okanagan Indian Band, Westbank First Nation, Upper Nicola Indian Band, Penticton Indian Band, Lower Similkameen Indian Band, Upper Similkameen Indian Band and Osoyoos Indian Band. We thank you for allowing us to meet and learn together on your territory.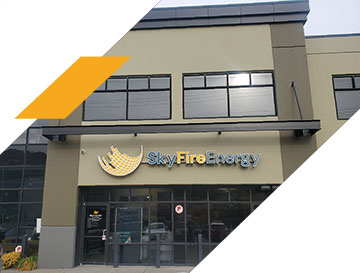 Okanagan, BC
#1 – 1110 Stevens Road
West Kelowna, BC V1Z 1G1
Mon-Fri 8 am to 5 pm