Read the first story of SkyFire Energy's early days here.
Turning Points
From humble beginnings in his Oakridge garage, the earliest days of SkyFire Energy were defined by David Kelly's trailblazing efforts. As a sociable, well spoken guy, David made connections and inroads into the Alberta energy industry that in some cases last to this very day.
One major momentum boost for the company was the addition of a plucky Saskatchewan guy in search of solar opportunity. Tim Schulhauser is now SkyFire's VP Finance and a key leadership team member, but back in 2004, that opportunity had yet to knock.
"Back in 2004, I was trying to get into the solar industry," Tim shares. "I'm from Saskatoon and ended up working for a solar company there in 2004. There wasn't really a market for it then. It was just too early. I decided to move somewhere where there was solar happening, so I could learn about the industry."

"I came to Calgary first, everything I owned was in a little Volkswagen Golf hatchback," Tim laughs nostalgically. "I came here because I had lots of friends and family here, looked in the Yellow Pages, phoned and looked up all the solar companies. Dave Kelly called me up and I think the next day I was in his basement checking out his solar inverter, and up on his roof which I thought was the coolest thing ever."
Landing The First Commercial Project
As it turned out, Tim's arrival was serendipitous. One of SkyFire's more notable early solar projects was 52 homes equipped with solar hot water in the Okotoks community of Drake Landing, and Tim happened along just in time to work on that and dip his toe into the solar game. 
That early victory cemented Tim and Dave's highly productive, still vital collaborative relationship, and Tim ended up contributing to not just that, but to test his mettle on a particularly cold and blustery project. A project that would propel the fledgling SkyFire Energy to the top of Western Canada's solar industry. 
The University of Calgary's Child Development Centre (CDC) is notable in the engineering world for being the first ever certified LEED Platinum building in a cold climate. It is also notable for being the very first commercial scale solar project ever installed by SkyFire Energy. As the new guy, it ended up being Tim's job to work in an 80 foot lift in the dead of winter, in the middle of the wind tunnel between the CDC itself and the Children's Hospital.
Taking place as it did in the early days of solar adoption in Alberta, Dave and Tim both ended up setting the standard for one of SkyFire's best attributes, and one defined by the solar industry at large: adapting to challenges in real time. As some of the earliest adopters of a technology that is only now beginning to gain wide acceptance and understanding, unexpected roadblocks were the norm for many years in SkyFire's history, even more than in typical construction scenarios.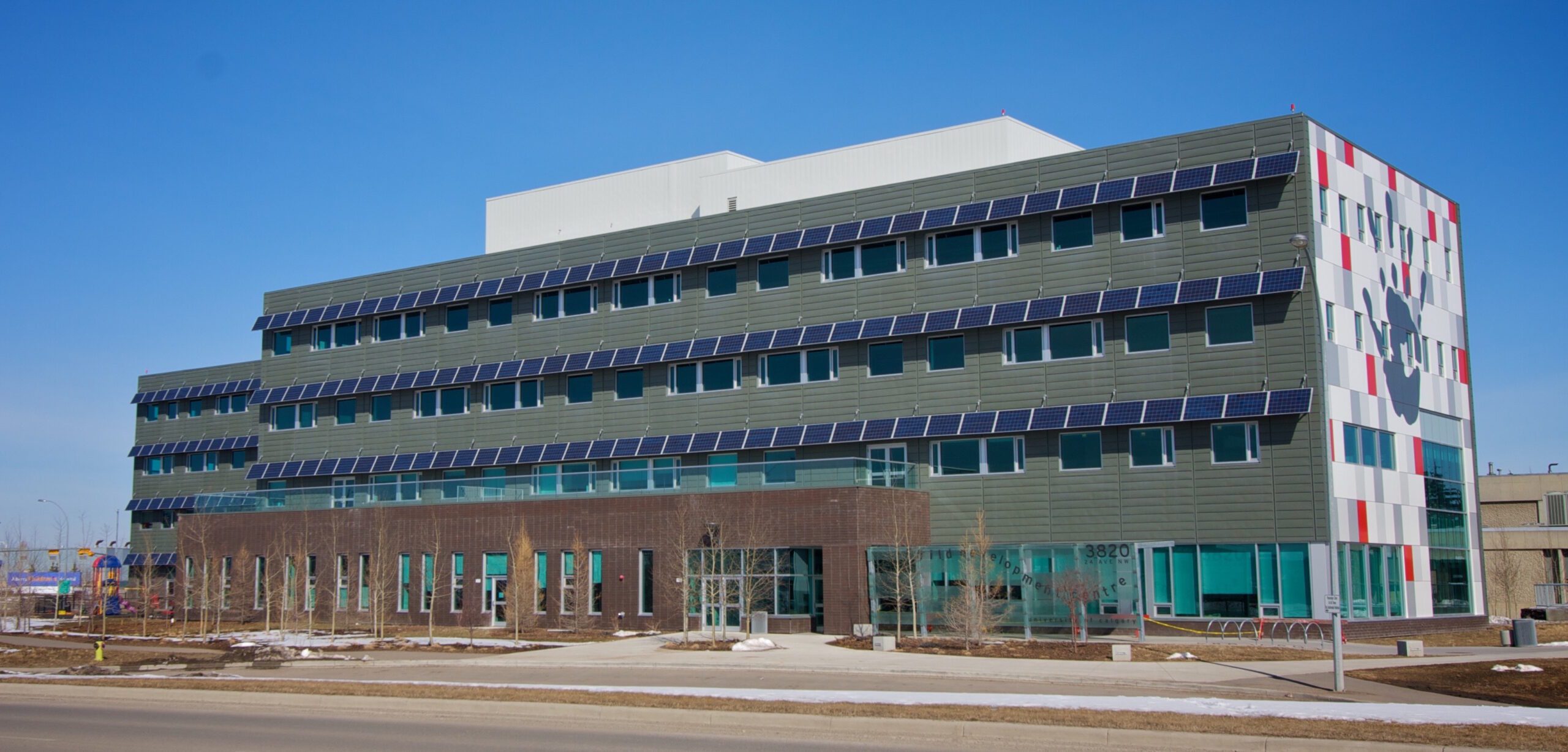 Making it Work
The CDC project itself is, in fact, a perfect example. On arrival, Dave and Tim found that the details of the design hadn't been followed, so some necessary holes in the awning brackets the solar modules were supposed to sit on had not been drilled out as requested. Somewhere along the way, the (for the time) unusual request of accommodating for solar panels to be installed on the building was lost in the shuffle, so Tim and Dave had to pivot in order to get the job done in a timely fashion. 
Rather than invest untold hours of time drilling 600 holes, Dave fell back on his engineering contracting experience, a career built on finding innovative solutions to unusual problems. He was able to draft and design plans for a custom bracket that would clamp onto the building's framework. With those approved, fabricated, built and galvanized, the job ended up going off as well as possible, even setting aside an unusually cluttered roof with no consideration for the solar modules intended for installation.
"It's a good example of how we work," Tim shares, "where we're always adapting and tweaking things and changing things and modifying and optimizing, and we're able to do things on the fly. If we find a problem it doesn't stop the work, it just means we look for a solution. In this case Dave designed it, we fabricated it, tested it out with specifications from the engineer and we ended up using it. It didn't cause a huge delay." 
The Child Development Centre project is also a good example of SkyFire's uncanny ability to find itself on the bleeding edge of modern construction as a general rule. Nowadays LEED is a widely seen and utilized standard for efficient construction, but in 2005 those conversations were only just gaining traction. The design of the solar array itself even alludes to techniques and practices that North America is only just starting to catch onto, in that the solar modules were doubling as a canopy for the south facing windows to shade the windows of the building and reduce demand for air conditioning in the summer time. Such techniques and design choices are becoming more commonplace all the time, and at least in Alberta, SkyFire was there to help pioneer some of those techniques in this region.
"[The Child Development Centre] was a marquee project that the sustainable building community was looking at," Dave shares, "because it was the first LEED Platinum in Canada. People looked to it, and being part of it was a good marketing tool for us, and experience as well obviously. We gained a lot of experience figuring out how to make it work."
Accustomed to Innovation
As the business grew along with Tim and Dave's knowledge, the future would eventually bring a thriving business with dozens of permanent employees and industry knowledge on par with the world's best renewable minds. As the first among what would become an inspired group of like minded individuals intent on proliferating an important technology for a thriving future, Tim and Dave successfully set a standard in these early days to be comfortable on the bleeding edge of technology and energy. Indeed, the technology in renewables is still advancing so rapidly that SkyFire Energy staff consistently find themselves working with products so advanced that many suppliers, manufacturers and distributors themselves need education on best practices and installation methods. Funny enough, in the early days, even the electrical inspectors weren't quite clued in to what Tim and Dave started doing.

"One of the first residential installs we did," Tim recalls, "I remember doing the walk through with the electrical inspector. He didn't go on the roof but I showed him all the electrical wiring and showed him how the inverter works. At the end he said, 'I don't know how any of this works, but it's super cool.'"

"I asked him if I could turn the system on, and he didn't even know that it was still off. He was just thankful that we showed him how the solar system worked, so a lot of these electrical inspections back then were [Dave and I] showing the inspectors how the technology worked and teaching them. The first 5 or 10 inspections I did, the inspectors had never seen a solar system in their life and they'd never had any training on it, so it was a lot of education even for electrical inspectors." 
To anyone at SkyFire, and likely in the solar industry in general, it's not surprising to know we are far enough ahead of the curve to be the ones educating authorities on how solar technology works. SkyFire's culture of learning, adaptability, and future focused growth is something built into the very DNA of who and what SkyFire Energy is. As it turns out, that pioneering and adventurous spirit was there from the very beginning, working out of Dave Kelly's garage, and continues to this day, where SkyFire is poised to continue leading the adoption of solar energy technology throughout Western Canada long into the future.