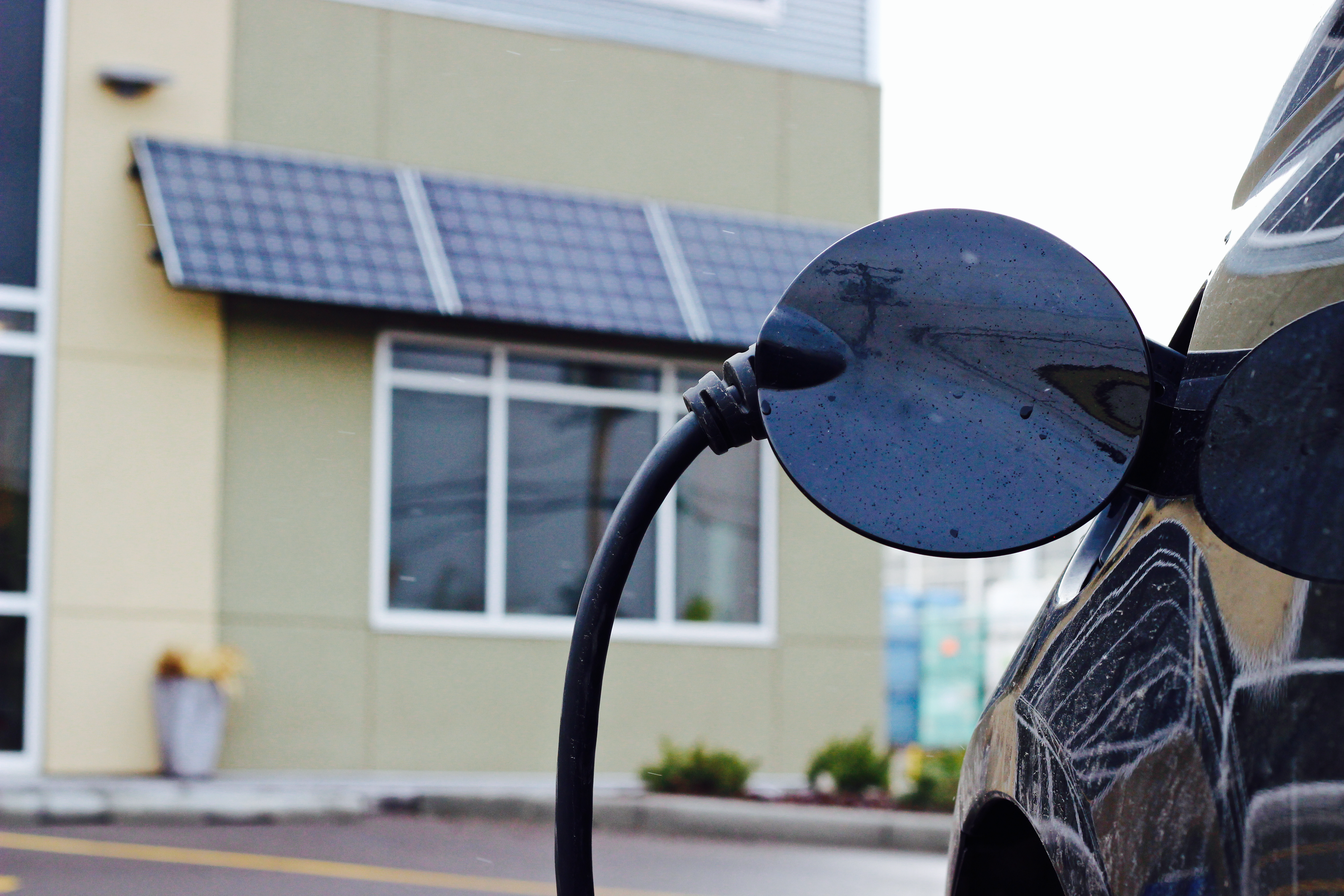 It's tough to miss the sudden surge of electric vehicles happening in the world right now. Where the iconic T shaped Tesla logo used to feel noteworthy, something to mention to another passenger in the car, at this point Teslas and their EV competitors are becoming commonplace.

As electric vehicles themselves proliferate, the supporting infrastructure related to their convenient operation is spreading around the planet. Early on, electric vehicles may have been ridiculed or ignored on the basis of where and how often they would need to be charged. Now, as Tesla and a number of other corporate and community players have invested in the viability of electric vehicles, a robust network of easily accessible EV charging stations exists in, around and between major urban centers across Canada and the United States.
Here at SkyFire Energy, we are firm believers in the role electric vehicles can play in reducing emissions from transportation, and as such have collected some knowhow about electric vehicle charging that we are more than happy to share with you. What follows is a nuts and bolts run down of how electric vehicle charging works, where you can charge your electric vehicle, and what the cost and infrastructure of that charging network look like. Buckle up!
EV Charging: The Basics
Not all electricity is created equal. Depending on the electrical equipment installed at your home, at your workplace, or at the public charging station, your electric vehicle will charge at different rates. Luckily, this breakdown ends up being quite simple: there are three levels of EV charging readily available.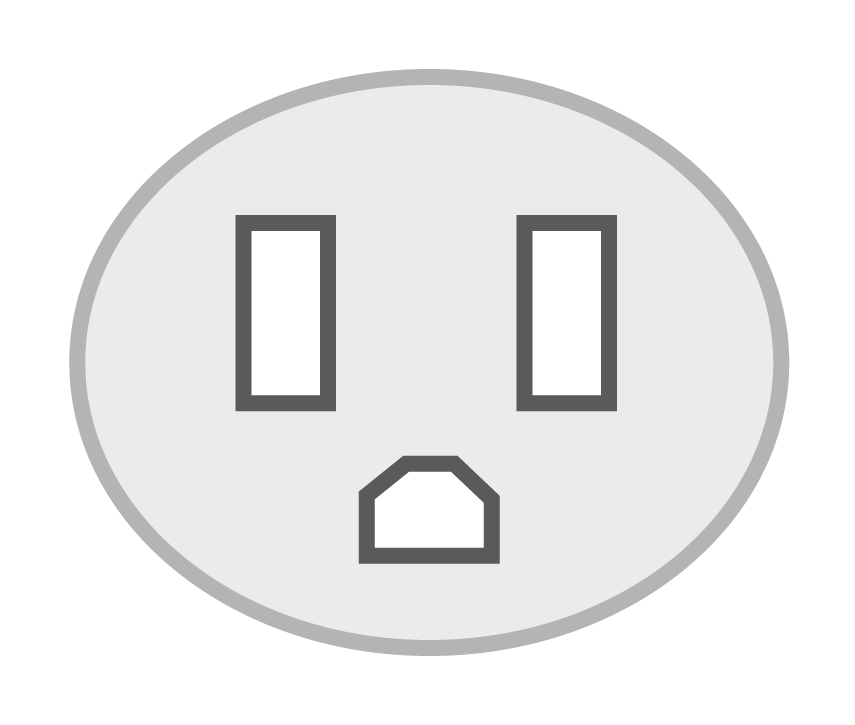 Level 1 charging occurs on a basic household receptacle, the type of wall outlet everyone uses in their homes. It uses 120 volts, typical household power availability, and provides approximately 2 to 5 miles of range per hour. This is generally what an EV owner will use in their garage or workplace unless an upgrade is installed.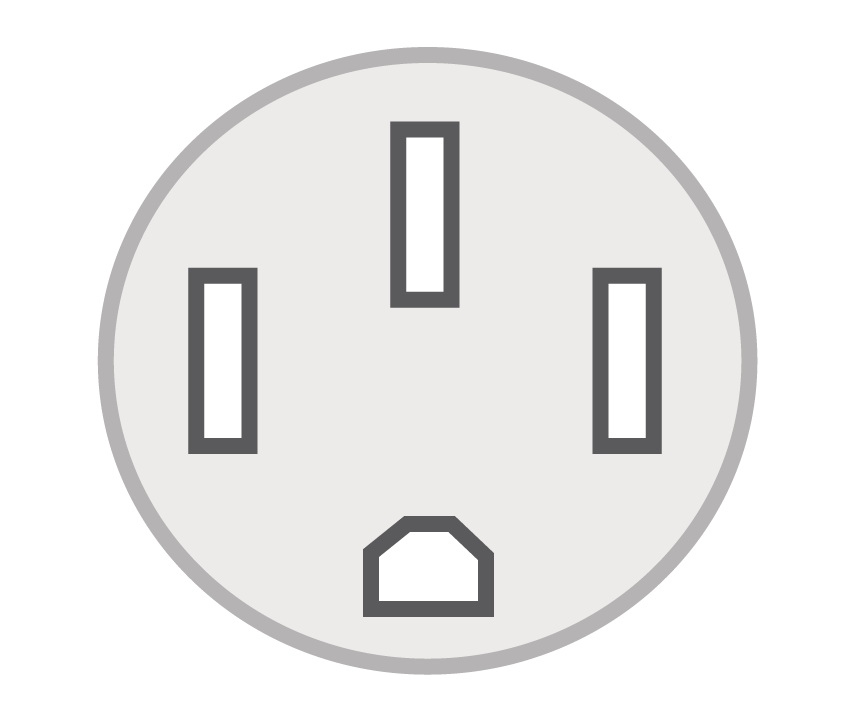 Level 2 charging is on a 240208 volt connection where a higher output receptacle can be installed. For those familiar, it looks like a typical dryer outlet. This type of electric vehicle charging provides 10 to 20 miles of range per hour.
Level 1 and level 2 charging utilize the vehicles onboard charger to convert from 120, 208 or 240VAC to the DC battery voltage.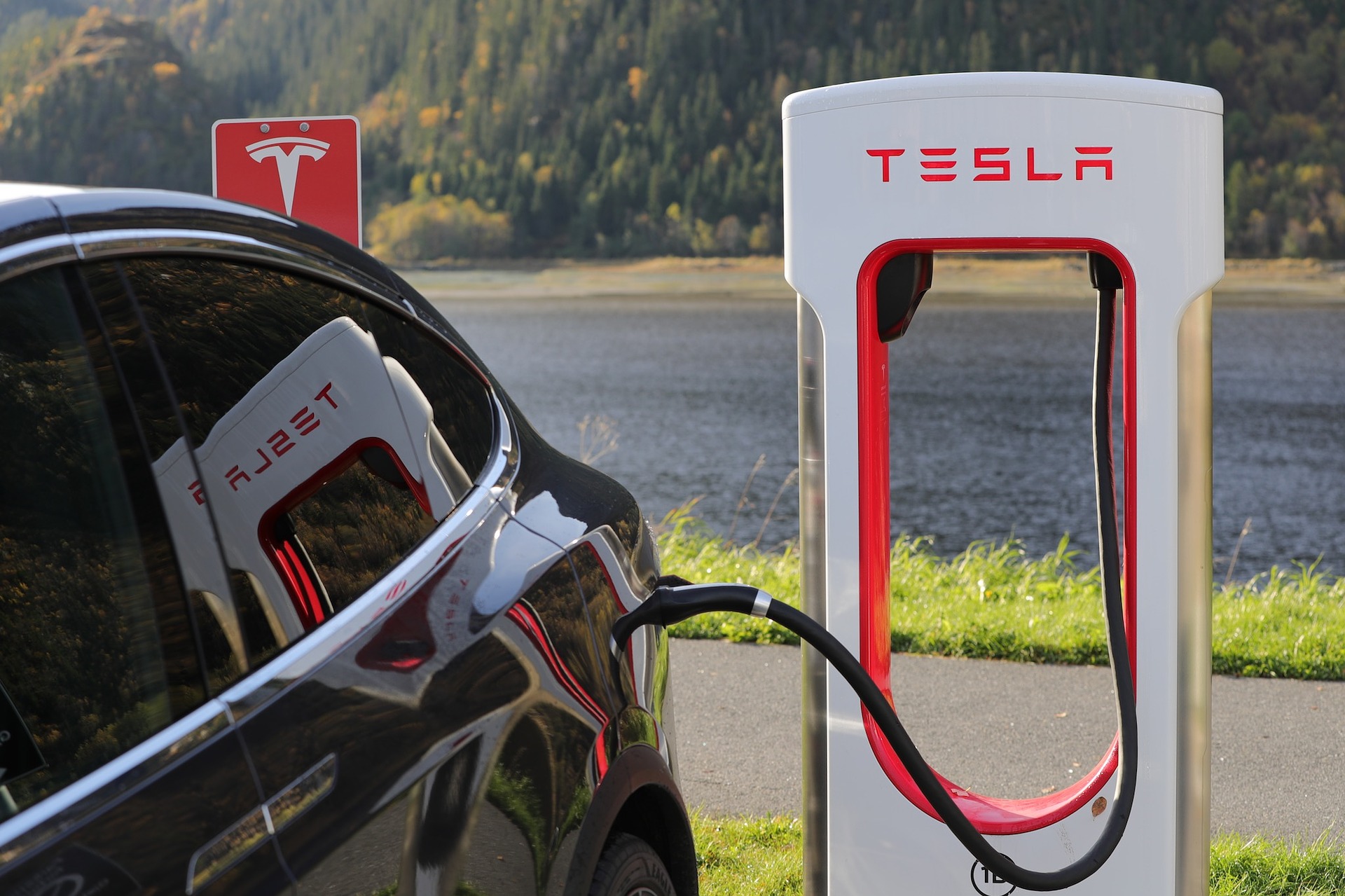 Level 3 charging utilizes external high-powered chargers to directly charge an electric vehicle's battery with DC electricity.  These fast-charge stations are what you'll see at the EV network Petro Canada just unveiled across Canada and the established Tesla Supercharger network. Level 3 chargers utilize CCS, Chademo or Tesla adapters to connect to and charge the vehicle.  
Plug and Pay
Charge for electric vehicles at public stations is often free, but pay models are becoming more prevalent. Of course, people pay for the electricity from their home, and according to the Ontario Ministry of Transportation, EV charging will cost some $1.45 per day to charge overnight, to the tune of some $530 per year. Prices will vary from jurisdiction to jurisdiction, but it is safe to say that the cost of charging your EV will provide significant savings versus fuel costs.
To be realistic, however, it should be expected that the costs of electricity at public charging stations will go up over time. The amount of current that must flow to charge sometimes up to eight vehicles at once in a short time is very significant.  These high powered chargers require significant electrical services and can incur very high demand (peak power based) chargers from the utility. Operating larger public charging stations could incur costs of $10,000 per month or more depending on the number and capacity of the charging stations. Certain government bodies and some of the manufacturers themselves have been subsidizing some of those costs upfront, but as more EVs hit the roads, the costs and infrastructure will only increase.
The State of the Network: EV charging in Western Canada
As of this writing, a typical electric vehicle owner has an abundance of established electric vehicle charging resources to make their vehicle usable. Four main players have contributed significant electrical infrastructure to create charging stations around the main transportation corridors in Western Canada, and the entirety of available charging stations is conveniently browsable on the Plugshare database.
Plugshare
Plugshare is a global map of EV charging stations available on browser or mobile application. Their digital infrastructure has a robust system of ratings, map directions, and location descriptions to provide all necessary information about a given charge station before the drivers arrive. Plugshare is nimble, responsive, and informative, and ensures EV owners have a single unified resource when it comes to charging their vehicles.
Tesla Superchargers
The flagship electric vehicle manufacturer has 1,804 Supercharger Stations at the start of 2020, with 15,911 Superchargers, and is growing by the day. In Southern Alberta, Tesla owners can consult either Tesla's own website and app, or the Plugshare network to find conveniently located charging stations. Tesla's navigation tool is even capable of plotting routes incorporating charging stations. For now, only Tesla vehicles can charge at their stations, but as indicated by the European harmonization of charging equipment, that may not be a forever situation in North America.
Peaks To Prairies
This collaborative network was executed by several government entities to support EV charging in Southern Alberta. Municipalities like Canmore, Calgary, Medicine Hat, and Lethbridge joined the Alberta and Canada governments and the Federation of Canadian Municipalities to create a network of level 2 and 3 charging stations that would enable EV drivers to travel the length and breadth of Southern Alberta, connecting Calgary and Canmore in the West to Medicine Hat in the East, and Lethbridge, Crowsnest Pass and Waterton in the Southwest.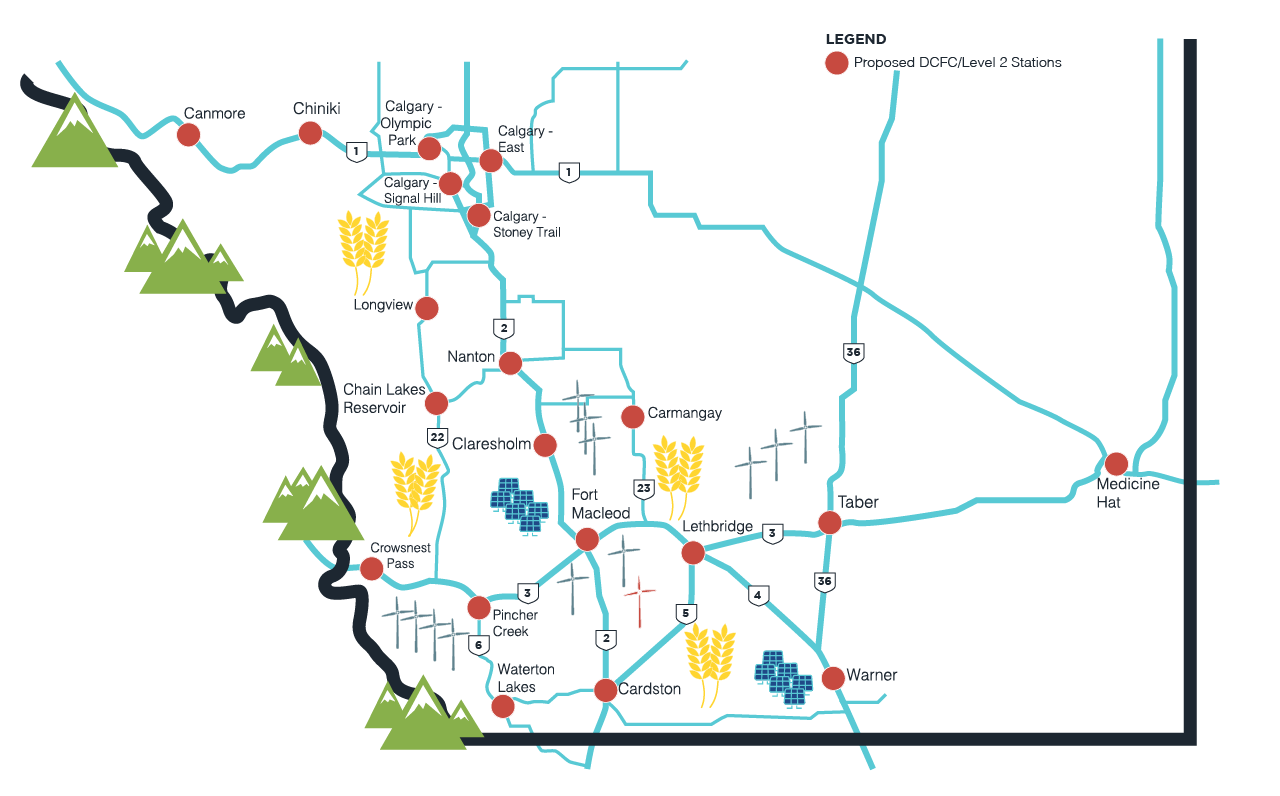 Accelerate Kootenays
Eastern and Central British Columbia have executed a similar community-driven approach to building out its EV charging infrastructure, driven by regional districts in Southern B.C. and with support from a number of power distribution partners in the area. 13 level 3 DC fast-charging stations and 40 level 2 stations on highways 1, 3 and 95 ensure EV drivers in the area always have access to the power they need along 1,870 km of Kootenay driving. 
Petro Canada EV
You likely noticed Petro Canada's rollout of level 3 fast charge EV stations recently, if not in their marketing material then in the abundance of construction work at key Petro Canada locations across the country. They have successfully positioned themselves as the first major retail brand to support EV charging across Canada, and they have succeeded in creating a true coast to coast corridor of EV travel in the country. 
Volvo and Electrify America
As part of Volkswagen's action plan following their emissions scandal in recent years, they have been mandated by federal regulators to invest $2 billion into electrification over ten years. This money has paid for substantial upgrades to EV charge capabilities, as the auto industry pushes to make electric vehicles as viable and convenient as any other vehicle on the road. Electrify America is clearly not Canadian, but the technology's advancement in the United States will only help the Canadian EV consumer base moving forward.
Article written by James Nason – Electrical Apprentice and Writer for SkyFire Energy
Additional links you may be interested in:
http://www.mto.gov.on.ca/english/vehicles/electric/charging-electric-vehicle.shtml
https://www.electrifyamerica.com/