The construction industry represents a significant carbon reduction opportunity in North America. While not necessarily the top carbon emitting industry overall, the nature of building shows that reduction in energy demand is fully achievable with today's available technology, provided builders and owners prioritize energy efficiency from the ground up. Net zero buildings, long seen as a long term goal by forward thinking construction industry professionals, have become a government priority in British Columbia. This is fitting, as British Columbia has long been ahead of the curve in terms of implementing environmentally friendly policies in Canada.

According to a media release by the Pembina Institute from October, 2020, buildings in British Columbia account for around 12% of the province's carbon emissions. While not the greatest share of carbon emissions in the province, the British Columbia government currently has a credible plan, the BC Energy Step Code, in place which could drop that 12% much closer to zero in the next two decades. If the entire construction industry were to shift to Net Zero methods, the associated energy efficiency gains paired with a focus on renewable energy investment would be a huge milestone towards net zero emissions on a province wide level. 
What does Net Zero mean?
Net Zero building methods pair energy efficiency with carbon free energy production. If a building can be airtight from the ground up, it can reduce its initial energy needs for heating. Similarly, installing energy efficient appliances and LED lighting can drastically reduce energy needs from the electrical grid. 
Once that initial energy demand has been reduced, the remaining annual energy usage for the building's heat and electricity can be offset by installing clean renewable energy sources such as solar photovoltaic (PV) panels. This means that the building's net energy consumption drops to zero over the course of the year, since the solar energy is able to produce carbon free electricity which both powers the home and delivers any excess electricity to the grid.
How is British Columbia encouraging Net Zero building methods?
The provincial government in British Columbia has implemented a transition plan to reach their stated goal of every building in the province built net zero ready by 2032. The BC Energy Step Code came into force in April 2017, with the stated goal of advancing the construction industry to being 80% more efficient than 2017 levels by 2032.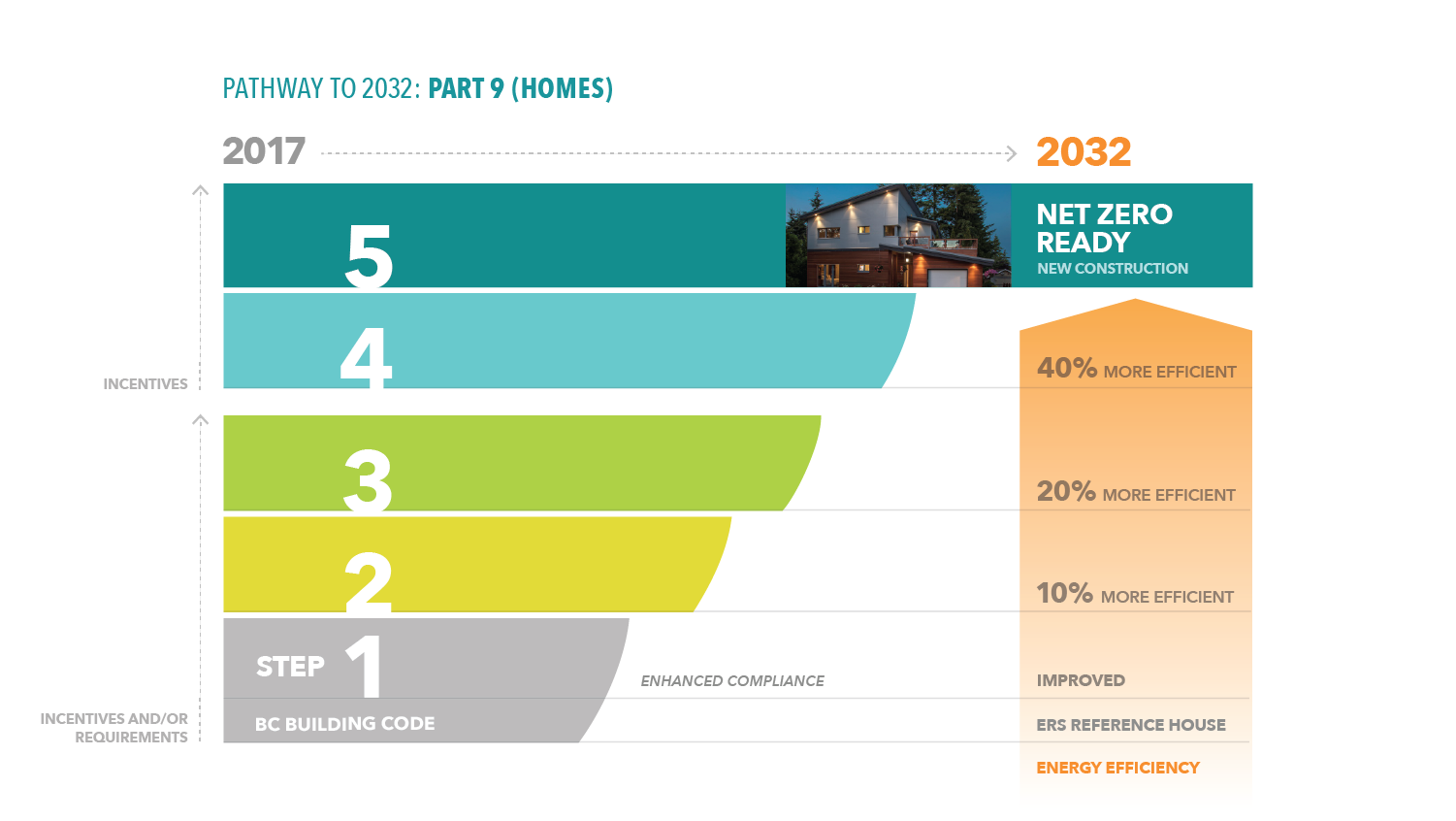 Rather than immediately forcing builders to adopt new techniques and standards on a short time frame, the Step Code is designed to encourage the construction industry to adopt those techniques over a decade or more. Local governments are able to adopt different steps in the code over time, which allows various municipal building codes to shift over time as companies and builders incorporate energy efficient techniques into their processes.
The first three steps in the code are designed to be relatively easy to achieve with readily available knowledge and resources, while the 4th and 5th steps will demand training and development on the part of companies and staff.
What role does solar energy play in the BC Energy Step Code?
Solar photovoltaic (PV) technology will be a critical component of every new building built under the BC Energy Step Code. This is particularly true of the later steps as municipalities adopt code that comes closer to net zero emissions. The initial steps of the code are designed to increase efficiency in building energy demand by 20 and 40% respectively for steps 2 and 3. Those demand reductions are often achievable with wall insulation, advanced window and door products, and energy efficient appliances. They also don't require as much change in design techniques as the later stages will, so many builders will simply choose to make their buildings require less energy.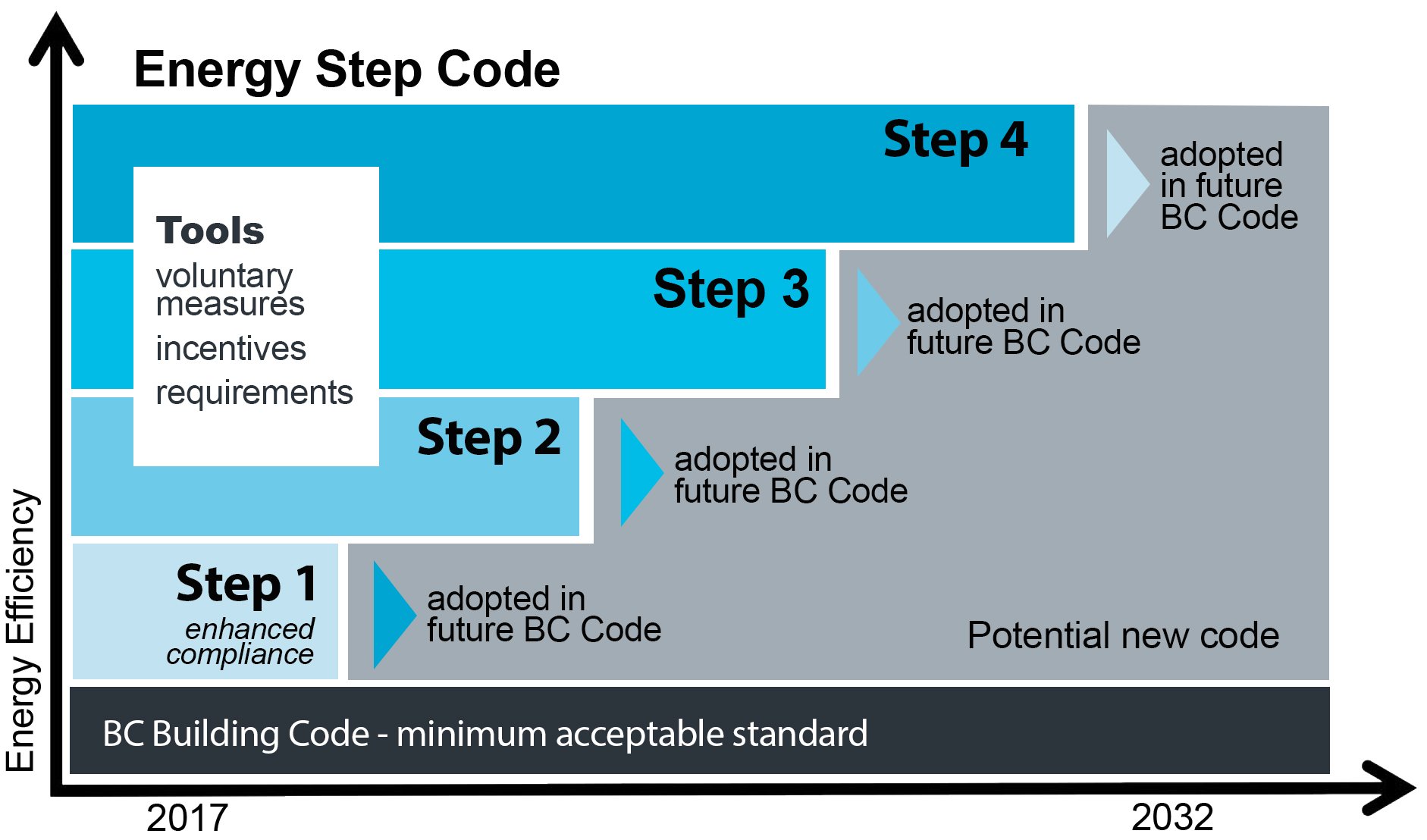 Credit Engineers and Geoscientists BC


Solar energy will play a critical role as steps 4 and 5 come into effect in more and more municipalities. Regardless of how efficient a building is in terms of insulation, airtightness, and reduced electrical demand, there will still be some energy required to heat and power it. That base energy demand will need to be offset somehow, and nothing compares with solar in terms of affordable, established technology to provide carbon free energy. While other forms of energy such as hydrothermal could be feasible for that final energy offset, solar energy is ubiquitous and available in sufficient quantities in most of the province for it to be the default method for net zero energy offsetting in most areas.
What other benefits are there to building Net Zero?
Though British Columbia's government was the first to move towards a standard of net zero ready, the Federal government has stated its own goal of implementing a national building code working towards net zero ready status by 2030. Builders already working on their own techniques to achieve net zero will be far ahead of the curve, and will be able to serve their customers' needs more easily than their competitors. For the construction industry, the writing is already on the wall in terms of the direction they need to move in order to stay effective as our various levels of government adopt carbon reduction strategies.
On a more individual level, however, there are financial incentives above and beyond the increased energy efficiency of net zero building. British Columbia's Step Code strategy has empowered so many local municipalities to incentivize net zero that Better Homes BC has a Rebate Search tool built to find rebates for building owners across the province. 
BC Hydro has begun offering $3,500 to builders installing mechanical systems that enable energy efficiency. The Canadian Home Builders Association's PACE (Property Assessed Clean Energy) program is well established in the construction industry, but will only pick up the pace (pun intended) as net zero gains traction. 
The Canadian Mortgage and Housing Corporation (CMHC) offers rebates on mortgage insurance premiums to home and building owners who qualify based on LEED and Built Green High Density standards.
The fight against carbon emissions is finally gaining real traction. If you are interested in learning more about what Net Zero means, consult some of the web pages we have compiled below. SkyFire Energy can help you achieve your Net Zero construction goals.
Here are some additional resources that may prove helpful in learning more about net zero and how we all can achieve it: