We are often asked "will my solar panels stand up to hail?" The answer is YES.  A solar module or panel that is installed properly and tilted to face South should never break from hail.  Up until a couple weeks ago we would tell people, "we've never seen a solar module (panel) being damaged from hail". That includes many hail storms over the years (we have had solar panels installed in Alberta since 2001), many of them bringing golf ball sized hail or larger.
In fact, we sometimes need to remove (and later re-install) an intact solar system so roofers can re-shingle a roof that was destroyed by hail! Luckily this is covered by the insurance company. If that's not enough proof that the panels can stand up to hail check out this video:
That being said, we learned that solar panels are not 100% safe when tennis ball and baseball sized hail hit a Southern Alberta town called Cardston. We do know of one solar PV system in Cardston that had broken panels from the hail storm. Then again, virtually everything in Cardston was damaged or destroyed by hail, including a report that half the vehicles at the dealership in town were damaged so badly that they were completely written off!  The solar panels in this case were mounted flat by the homeowner and not tilted South.  Had they been tilted South, they likely would have survived indirect strikes of hail from the NW.  The module's (panels) tempered glass is typically rated for 1″ hail at 55 mph.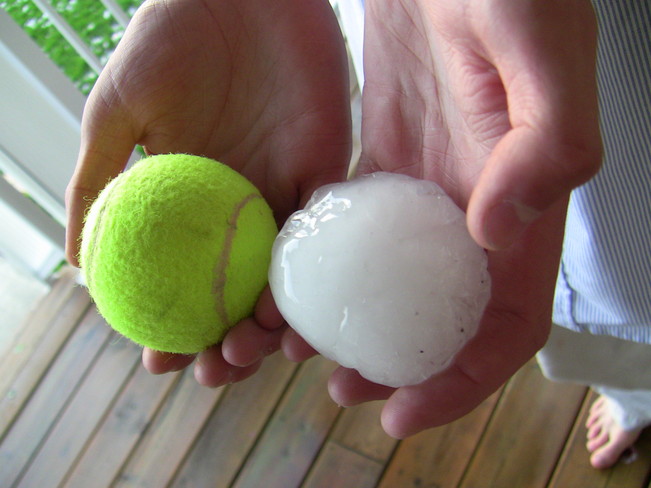 Photo: Ben Wright http://www.theweathernetwork.com/your_weather/details/1232/7307422/44/upload/1
So, should you still put solar on your roof, YES, of course! In the absolute worst case, if your house gets pummeled by basebell sized hail, the solar modules, the rest of the house (shingles, siding, skylights, windows, eaves, etc.) and your vehicle glass and body will all be covered by insurance. Just make sure to add the solar system to your insurance policy.  Insurance premiums can vary from no additional charge to a increased premium that reflects the increased value of the home.
2017 UPDATE – Check out this video from Colorado that smashed skylights, windows and shut down schools.  Of 3,168 solar modules exposed to the storm at one site, only one module sustained damage.