The year 2021 will be significant the world over, as the year the global community climbed from the alarming depths of an unprecedented pandemic. For all the significance of that, the year 2021 also stands tall as a turning point for SkyFire Energy as we mark 20 years in business in 2021. Let's spend some time diving into the history of SkyFire Energy, and how we managed to survive as early adopters of solar PV technology.
Let's wind the clock back to the late 90s. David Kelly, SkyFire's CEO and founder, moved to Calgary from Ontario in 1994. As a mechanical engineer by trade, Dave's occupational history was pretty colourful by engineering standards: he'd been designing bomb suits, helicopter armour, tactical vests, and light armour for the GM Grizzly military vehicle.   
Back in the Ontario days, General Motors had hosted the Sunny Race, and Dave had helped build the body for a solar-powered car in Waterloo. That was some of his earliest exposure to solar photovoltaic (PV) technology. "[Thermoelectric Concepts] were selling into the same market as the solar guys," Dave recalls. "In fact, prior to the Green Energy Act in Ontario, the largest consumer of solar panels in Canada was the Alberta oil patch. It was the cheapest way to get power on a well site for SCADA and valve controls and such."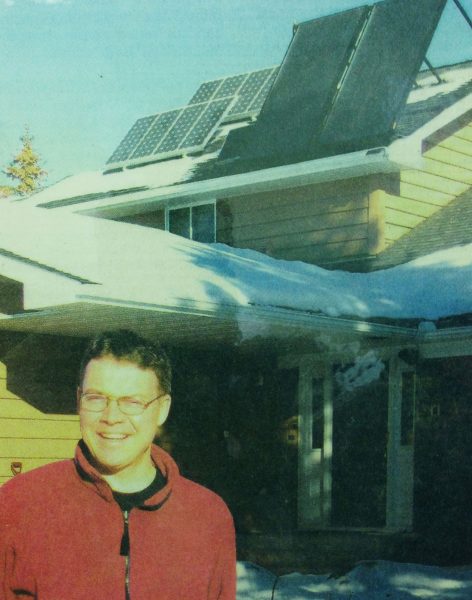 "I'd always had an interest in solar, so I thought well, let's see if I can put a grid-tied system on my house."
There it is. Though perhaps not formally, that organic genuine moment of curiosity was where SkyFire Energy was born. That natural sense of openness and forward-thinking remains to this day, but back then, Dave was sort of the weird one. He found himself way out in front of an advancing technological development, in a conservative place that didn't know what to make of this newfangled solar thing.

Undaunted, Dave jumped onto his new project, even going so far as to show it off before he finished installing it. "I bought some modules, I bought an inverter, I bought some rack. It was a 600 W system, we had eight 75 W modules, with an inverter from Xantrex. Just before we installed it on the house, in early summer, May or June, the Ecoliving fair was on… in the parking lot of Community Natural Foods in Chinook. I brought my modules out on the roof of my Volvo, clamped them on the roof rack, and we had a couple of batteries and an inverter that I'd borrowed from the distributor. We powered a bit of the stage that was set up there, and we kept going from there." 
That connection to the local Calgary community, popping up to provide free solar electricity at neighborhood events like Marda Gras in Marda Loop, continued until relatively recently. Such efforts reflected SkyFire's genuine commitment to marketing not just a superior technology, but a force for good in the world. It also reflected the humble, personal beginnings of engaging with technology. As such an early adopter, Dave's connections to the renewable energy industry run deep, in some cases powered by sheer curiosity and commitment to technological innovation.
"Our solar system on the house was the second grid-tied system in the city, I think we were the third or fourth in the province," Dave recalls. "At the time we didn't have the Micro Generation Act. Enmax was allowing it, [but] we had to join the Petroleum Registry because the Alberta Utilities Commission (AUC) and the Alberta Energy Regulator (AER) were together at the time. We have a Petroleum Registry number for my house, we have a generator permit, but you couldn't get the generator permit until you had an electrical permit inspection, and you couldn't pull the electrical permit until you had a generator permit. So it was basically impossible. We just did it and got the permit anyway, and it worked in the end." 
"The inspector of course had never seen one before," Dave remembers wryly. "He came twice after checking some things and coming back in case his boss came by, to be sure he'd done everything right. The electrical code was very limited, just a couple of pages if that, so there were very few code rules around solar. We did our best to make it safe and comply with the code, so it passed inspection and we turned it on. At the time we had an analog meter, so if you had everything off in the house and solar was producing, you could actually see the meter spin backward." 
As 2001 rolled towards 2005, Dave's tendency towards cutting edge, interesting and creative work got him more and more involved with solar technology. As he put more and more skin in the game and committed to learning the process of installing solar energy systems, he attracted a new collaborator, Tim Schulhauser, now serving as SkyFire's VP Finance. 
As the technology advanced and solar panels became cheaper and more powerful, Dave Kelly commenced an upgrade to his house that would serve as a funny and prescient reminder of the wide appeal SkyFire, and solar in general can have in Alberta.

"Around 2005 I upgraded my system, so I sold some of my modules to a hippie who put some of the panels on his cabin out in BC, and Preston Manning took the other four modules and we did an install for him on his cabin out in Sibbald Flats."
That dichotomy, appealing to both the eco-focused and the politically connected alike, defines SkyFire's current and future success. Those seeking positive momentum for carbon reduction and forward-thinking green solutions can find a top-notch solar system, as can those simply seeking a high-powered technological advancement that also serves as a rock-solid investment.
The place SkyFire currently finds itself in, not to mention renewable energy as a whole, is rapidly deploying solar PV technology at small, medium, and large scale to offset carbon-emitting sources of electricity. On top of that, the tech is powerful enough to serve as an investment in energy independence for some families able to afford off-grid living with battery storage. 
That impressive energy offering started off somewhat more modestly in the mid-2000s. "In the early days there wasn't a lot of solar electric going on," Dave said. "Back then modules were extremely expensive, I think those 75 W modules were $1,000 apiece, so very very expensive. I think the first system was in the neighborhood of $30 per watt retail, including labor and such, today we're in the $3 a watt retail area, which is a tremendous drop in cost."

Bearing that early high cost of solar PV, there was still a way for Tim and Dave to harness the power of the sun. The only trouble was the extreme size and weight of the tech that was available. "We were doing a lot of solar hot water. We did the Drake Landing project in Okotoks, so 52 homes we put solar hot water on all those houses. We started distributing the Enerworks product line from Ontario, it was a Canadian-made solar hot water product." Those Canadian-made products were say, 4 foot by 8-foot units weighing in at a couple of hundred pounds, so Tim and Dave had their work cut out for them lifting and installing those units back in the old days. Still, they got buy-in and crucial momentum at any rate. 
"That went on, maybe 10 years," Dave continues. "[Eventually] the price of solar electric modules fell and the price of gas fell, and solar electric displaced the hot water market. We had plumbers on staff rather than electricians in the beginning and we'd hire electricians as we needed them because there were so few PV projects."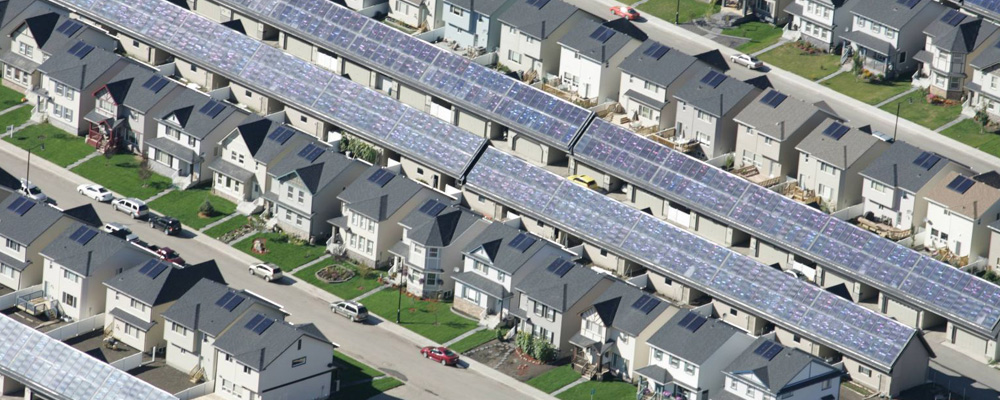 Though solar PV technology would become the critical second act of the SkyFire story, there was still momentum to be had, including an early collaboration with a customer who'd eventually become a marquee investor in cutting edge solar technology. 
"We did a 60 collector system for Jayman BUILT on a condo project," Dave recalls, "We did solar on some condominiums in Inglewood. Lots of residential solar hot water, a little bit of grid tied solar." 
"As the Micro Generation Regulation came in (around 2008), people were interested and it was sort of that "green bleeding edge," Dave said. "Tim and I were on TV for a show with Jill Deacon from CBC, and they had contacted us to price out a solar system for a house. It was a contest where they were given I think 5 or 10,000 dollars. I think there were a dozen or half dozen families across Canada, and with that budget whoever was able to increase their EnerGuide rating the most won a Prius for a year or something like that." 
"They'd gotten us to price out the solar hot water system, but they decided not to put it in because they needed to insulate the walls. When they came the morning of the renovations for the filming of it they discovered that the one wall cavity they'd checked didn't have insulation, and the rest all did, so they had budget left and they called us that morning and asked if we could install a solar hot water system. So we scoped out the house, we put up our fall arrest gear, because we knew it was going to snow overnight. We got there the next day, we'd left our ropes in place thank goodness, we put up scaffolding and were ready to go for the film crew the next morning, and we ended up shovelling a foot of snow off the roof to get the solar hot water system in. The family actually won the competition, and won a Prius for a year."
The short version of this goes something like: it pays to commit. Whatever personal doubts early adopters like Tim and Dave would have had before mass adoption and grid parity started to take place, their strength was in committing to something they could see would have great value in the future. As it happens, that future is today.
"The green bleeding edge customers is where it stood at the time. They thought solar was cool. Tim and I did one install in Canal Flats, we did the solar hot water system and a battery backed up grid tie system, and the customer in the end said 'I don't even care if it works, it just looks cool.'"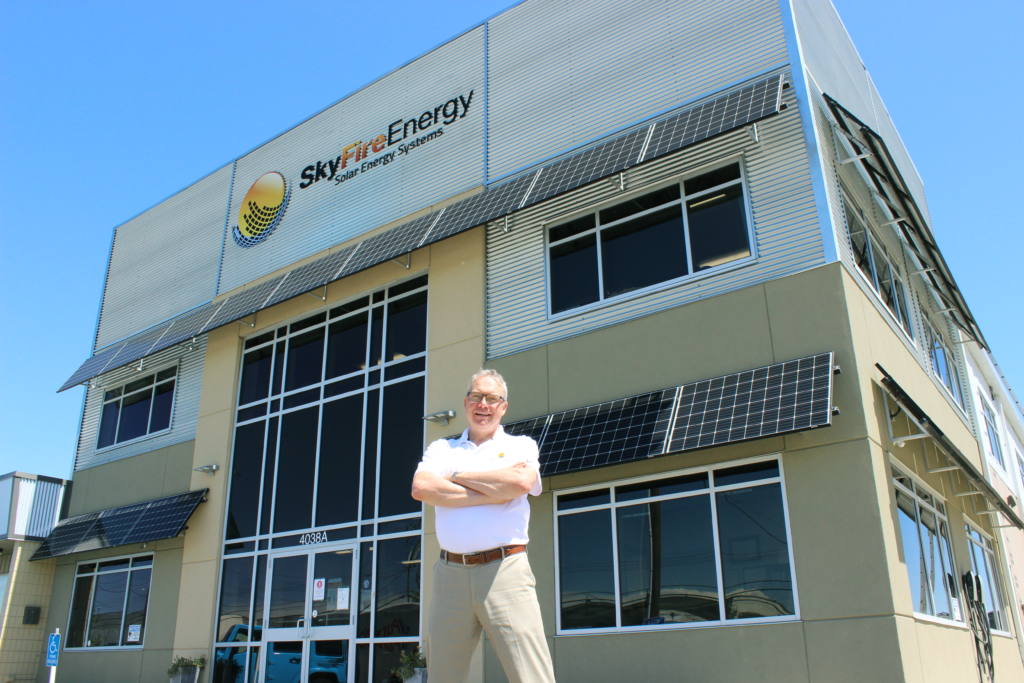 Those customers, inspiring and committed as they were, helped spur and support the fledgling SkyFire. Luckily, whether that excited client in Canal Flats or a brand new homeowner in a Jayman BUILT community, no SkyFire customer has to wonder whether their solar energy system works. They just need to count their blessings and their savings as they contribute to a more sustainable, technologically savvy world.