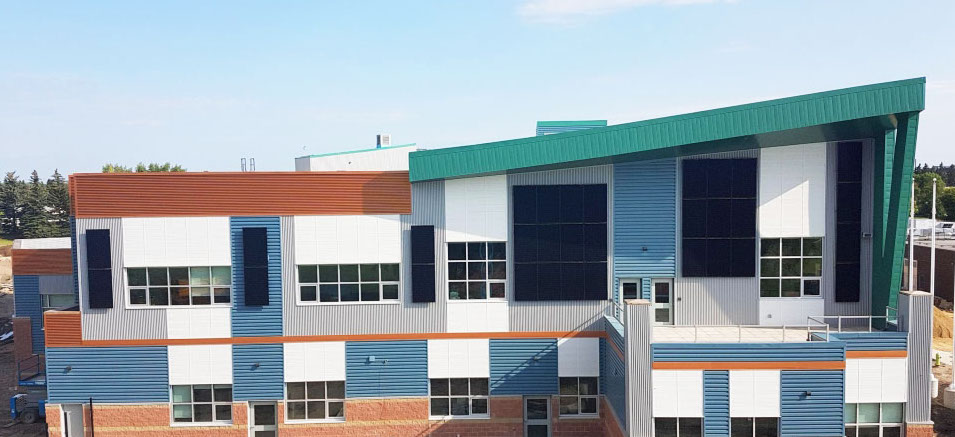 The Solar for Schools Program provides financial rebates to Alberta Public School Authorities who install solar photovoltaic (PV) systems on existing school facilities or land in their jurisdiction and complete a student education initiative as part of the project. Through the program, your school can receive rebates that cover up to 50% of installation!
How much funding is available?
Participants are eligible to receive a rebate per watt based on total installed capacity ($/W):
Less than 10 kW: $1.50/Watt
10 kW to less than 150 kW: $1.25/Watt
150 kW to less than 2 MW: $1.10/Watt
2 MW to 5 MW: $1.00/Watt
The rebate provided by the MCCAC will not exceed 50% of eligible expenses. School Authorities can submit multiple applications. Each School Authority is eligible for funding up to the lesser of $3,000,000 in allocated funding to schools within the School Authority district or 30% of schools within the School Authority district have been allocated program fund.
How does it work?
Schools within the province of Alberta which serve Kindergarten (K) and/ or a set of grades 1-12 and report to School Authorities classified as Public, Separate, Francophone, and Charter by Alberta Education are eligible to participate. The only other requirements are that the system must be a new installation, and it must be located on a facility or parcel of land wholly owned by the participating School Authority.
Why choose SkyFire for your school solar project?
Experience working with schools – We have worked with numerous schools providing them with turnkey, professionally engineered solar PV solutions and Owner's Engineer services. We ensure that it is a hassle-free process where we take care of every aspect of the project including applications and paperwork.
Trusted solar provider – With more than 64 5-Star Google Reviews, SkyFire Energy is Western Canada's largest and most experienced solar contractor having installed more than 13 MW of solar capacity since 2001.
Purchasing power – As a member of Amicus Solar Cooperative, we are able to provide more competitive pricing to our customers due to our increased purchasing power with preferred vendors and operational efficiency gains.
Product knowledge – We recommend products for our clients that we know through experience are reliable, proven in Alberta and are bankable. A quality system starts with quality components.
Staff training and experience – Having completed more than 1000 grid tied solar PV systems, our team of Professional Engineers ensures your project is designed and built to the highest standards.
Take advantage of this Solar for Schools program and help your school save on operating costs! Please contact us for a free consultation. A SkyFire Solar Specialist will be in touch with you upon receipt of your request. 
Recent SkyFire solar installations for schools across Alberta: