Hello Spring!
We're ready for longer days, warmer weather and more sunshine to help brighten the gloomy situation that's currently being faced throughout the world… For now, our customers can at least look forward to a spike in solar production and electricity bill savings over the next few months!
Take advantage of the excess solar energy generated in spring & summer.
For those of you in Alberta who will be exporting more energy to the grid than you are consuming this spring and summer, don't miss out on receiving higher compensation by switching to a higher electricity rate plan. Alberta Cooperative Energy (ACE) offers a 22 cents/kWh Green Generator Rate, which is the highest rate available on the market! When you are back to producing less energy and are more reliant on grid power, you can easily switch to their FUSION rate plan which is their most competitive and secure option. In addition to that, you have the opportunity to sell the renewable energy attributes of your exported energy as Green Energy Offsets to ACE customers through their Green Offset Program. Please contact ACE for more information.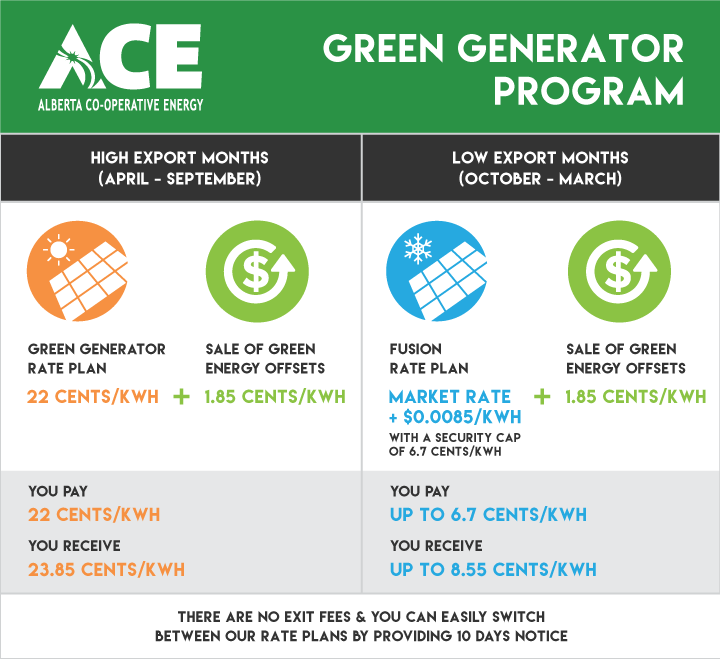 Deciding whether to invest in solar now? Spring is a great time to install solar!
By installing your solar PV system in spring and summer, you will be able to take advantage of peak solar production and enjoy savings on your electricity bill right away. Did you know solar PV systems produce approximately 2 – 3 times more electricity in the spring and summer months? All of the excess solar energy generated is exported into the grid and you will receive micro-generation credits (at the same retail rate) on your utility bill. Those excess bill credits can help offset high electricity usage in the summer (especially if you have an air conditioning system running) as well as come in handy in the winter when your system is not producing as much power and you are more reliant on grid power.
Spring is also the most popular season for buying real estate. So if you are looking to buy a new home, there are ways to add solar to your mortgage for a minimal increase in monthly payments. Or to make things easier, you can just buy a new home that comes standard with solar! Jayman Built's new smart homes include a 6-panel SkyFire solar PV system, smart home automation, Ring video doorbell and an electric vehicle charging outlet. It doesn't get better than that.
Many homeowners choose to repair or replace their roofs in spring and summer. If you are already working on roof improvements, why not add solar too? Solar panels will not only protect your new roof from potential hail damage, but it is also an investment for your energy future.
Is the upfront cost of solar a barrier for you? You'll be pleased to know that SkyFire now offers an affordable and flexible solar financing program with a monthly or biweekly payment plan. You can own solar for as little as $70 per month!
As always, we are here to answer any questions you may have about owning a solar PV system and what the next steps are. Contact us here or at 1-877-593-4731 for more information.
Enjoy the sunny days ahead, everyone!