A major consideration for many homeowners evaluating a solar power installation is aesthetics. It's not too hard to imagine this scenario:
Partner 1: "I was reading about this new program where you can put solar panels on your roof and make money. Seems like a good extra revenue stream, and we can reduce the pollution from -"
Partner 2: "Wait… we put so much money and time into the beauty of our home and now you want to put big blue panels on top of it all!?"
This doesn't have to be the end of the conversation – there are some good solutions to this predicament. We installed one such solution, an "All-Black" system this fall. Although perhaps not as exciting as the famous All Blacks New Zealand national rugby team, this solar photovoltaic system does look pretty good.
For some people, black solar panels (modules) and black mounting system can be an appealing alternative to the classic dark blue panels with aluminum mounting system.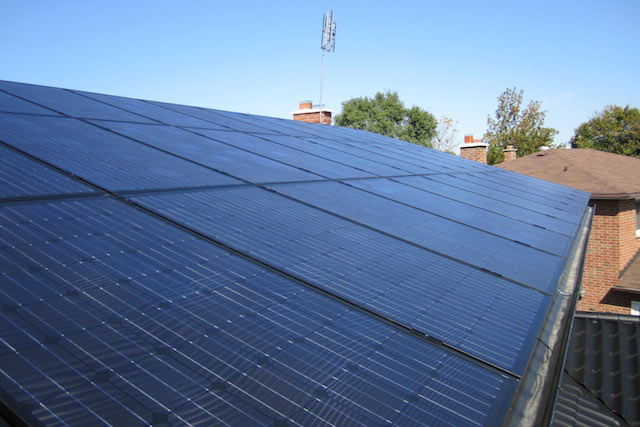 Depending on the house, an all-black system can range from being a bit less visible than blue panels, to almost looking like it is the roof itself. Our recent installation in Mississauga, Ontario is shown here.
The panels are made by Heliene and the racking system by Schletter. The aluminum mounting system can be anodized in black or simply powder-coated after production.  The installation is part of the microFIT program, where all of the electricity produced is sold at a premium to the local hydro company, in a 20 year contract with the Ontario Government. This has turned solar is a stable investment with incredible returns of between 10 and 13% per year. Find out more here.
To finish off with a contrast, we also like the classic dark blue modules shown in the installation below. But then again, we're solar geeks.
What do you think?