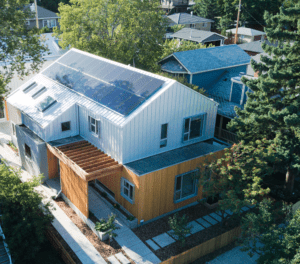 Alberta's Clean Energy Improvement Program (CEIP) provides financing to residential and commercial property owners to make energy efficiency and renewable energy upgrades more affordable. Also known as Property Assessed Clean Energy (PACE). In Alberta, CEIP offers competitive financing to cover up to 100 percent of project costs and makes repayment convenient through your property's regular tax bill.
Benefits of the Program:
CEIP offers competitive rates with long repayment terms available (up to 20 to 25 years depending on the project type and participating municipality's terms and conditions) and can be repaid at any time.
Energy efficiency and renewable energy upgrades help decrease energy use and increase the comfort of the property. (CEIP requires all eligible upgrades to be installed using a Qualified Contractor).
This type of financing is tied to the property, not the property owner. If the property is sold, the new owner can assume repayment (and enjoys the benefits!). In certain circumstances (like a condition of sale) you may need to pay off the balance owing at the time of sale.
Eligible Residential Upgrades include:
Renewable Energy, Solar PV & Solar Thermal
Heating, Ventilation & Air Conditioning
Lighting
Water
Doors, Windows, Insulation & Air Sealing
The Town of Rocky Mountain House is now accepting Pre-Qualification applications. The Town of Devon and the City of Edmonton are expected to begin application intake in late 2021. All of the details regarding the program can be found HERE.
If you have any questions about this incentive or any other incentives offered in Western Canada be sure to give our Welcome Team a call at 1-877-593-4731.