Alltrade/SkyFire a Joint Venture Partnership recently completed the EPC contract to build the 13.7MWp Alberta Solar One (ABS1) solar energy project in the County of Forty Mile near Burdett, Alberta. Alberta Solar One is a ground-mounted solar array that uses Morgan Solar's proprietary SimbaX optical film to boost the performance of the bifacial photovoltaic modules.  The modules were supplied by Ontario-based Silfab. ABS1 covers approximately 70 acres of land and now supplies renewable power to the Alberta electric grid.  The team utilized racking and piles from Canadian companies providing jobs across Canada.   
The Joint Partnership Making it Possible
This solar energy project would not be possible without the Alltrade/SkyFire Joint Venture Partnership formed to build solar and solar plus storage projects in Western Canada. The joint venture takes advantage of SkyFire's local experience and workforce combined with Alltrade's extensive utility-scale solar project experience. SkyFire has built over 40 MW of solar projects in Western and Northern Canada.  Alltrade has constructed over 1 GW of solar, wind, and battery energy storage projects across Canada.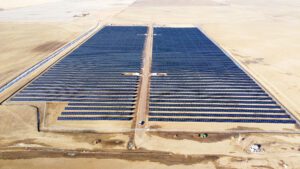 "The successful completion of the Alberta Solar One project is a significant milestone not only for Alltrade and SkyFire but also in Canada's drive towards sustainability and a clean energy future. This project brings clean solar power to the equivalent of thousands of homes in Alberta, which positively impacts the community. Bringing solar and renewable energy across Canada continues to be a key focus for us." – Kevin Ritzmann, Senior Director at Alltrade.
"SkyFire is proud to be part of this project which created local skilled employment opportunities and benefitted local suppliers in Alberta and Canada.  It is exciting to see solar energy growing in Alberta as part of our long energy innovation legacy.  Solar energy has always been part of Alberta's energy potential and is becoming a more significant part of our generation mix as modules prices make solar cost-competitive " said David Kelly, CEO of SkyFire Energy
Both SkyFire and Alltrade are COR certified and share the same safety-first culture. Alltrade's core purpose is Building People, Projects, and Communities. SkyFire is a registered B Corp that places value in People, Planet, and Profits.  
More about Alltrade Industrial Contractors Inc. 
Alltrade is a proven ground mount solar industry leader with over 500MW of project experience in Canada. Alltrade has built this reputation due to our flexible construction delivery methods and through developing innovative best practices that have transformed the Canadian utility-scale solar industry. With a focus on achieving unsurpassed value, the team delivers innovative solutions through the quality workmanship of in-house, self-perform trades. Alltrade's focus is on long-term partnerships, value-added services, exceeding client expectations, and providing a fair price across the energy, transit, industrial, and utility sectors in Canada. Website: www.alltradeindustrial.com 
More about SkyFire Energy
SkyFire Energy Inc. is an employee-owned Certified B Corp and one of Canada's oldest and most experienced solar EPC (Engineering, Procurement, and Construction) contractors with photovoltaic systems operating throughout Western Canada, the North, and Ontario. With an impressive portfolio that includes many of the largest behind-the-meter installations in Western Canada, SkyFire's solar projects encompass all levels of government, commercial and industrial businesses, homebuilders, and residential owners. The SkyFire team includes professional engineers, photovoltaic technicians, and experienced installation crews, allowing them to provide turnkey solutions from design to installation and commissioning.